The Creative Process


The decision to use a particular pattern or glaze arises from a combination of factors...s

ome of my stronger influences have been Chinese Sung Dynasty porcelain and Yi Xing stoneware, and Japanese ceramics such as Bizen, Karatsu and Iiga.  But ideas can come from anywhere and are sometimes difficult to attribute...from eastern and western pottery and potters and artists...to museums, books, beaches, churches, trains and windows...to light and shadow and sunsets.
Slip-casting
Slip-casting is the technique where liquid clay is introduced into a plaster mold for a specified amount of time and is then drained to leave a shell of clay inside the mold.  When this shell begins to dry, it shrinks away from the mold wall and can be removed.  For many years now I have been using this technique to produce Japanese-style andon lamps made from translucent porcelain. 
Decorative Techniques
I use several decorative techniques on the lamp walls.  
Textiles - Sometimes a thin material, such as textile, is attached to the inside of the mold before the actual slip casting, and is incorporated into the lamp wall.  When this material burns out in the firing the result is a pattern of thinner (and more translucent) porcelain on the lamp surface.  
Carving - In other cases, the casting is removed from the mold and carved before hardening, or is carved with a tool such as a small drill after being bisque-fired. 
Katagami - Katagami are stencils which were once used in the dying stage of kimono production.  They are beautifully cut from Japanese washi paper which is then soaked in persimmon juice to make it water-resistant.  I have collected numerous antique katagami which I use to decorate some of my work by spraying glaze through the katagami design.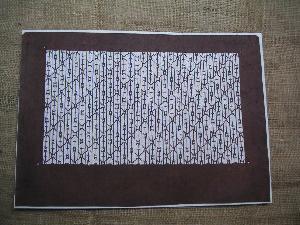 A katagami stencil






Rakugan
–

rakugan

are ricecake confections used in the tea ceremony.
They appear in many sizes & shapes from plate-sized fish to small flowers.
Rakugan
molds are typically two-piece wooden molds which were used in the past to form the confections, & the best ones are marvelous examples of craftsmanship.
I have collected many
rakugan
molds & use them to make plaster molds from which I fashion flat lamp panes with three-dimensional designs.
These panes are set into wooden lamp frames of varying shapes & sizes.
Throughout Japan's history, its craftsmen have been famous for their consummate skill in such areas as carpentry, carving, wood-, bamboo- or metal-working, textiles, etc.
Sadly, these crafts are dying out in the age of modern mass production.
When I "recycle" antique
katagami
or
rakugan
molds in the production of my ceramics, I feel a strong link with this tradition of craftsmanship as well as a sense of admiration & gratitude for these masters of the past.
Gary Labar, 2022, All Rights Reserved